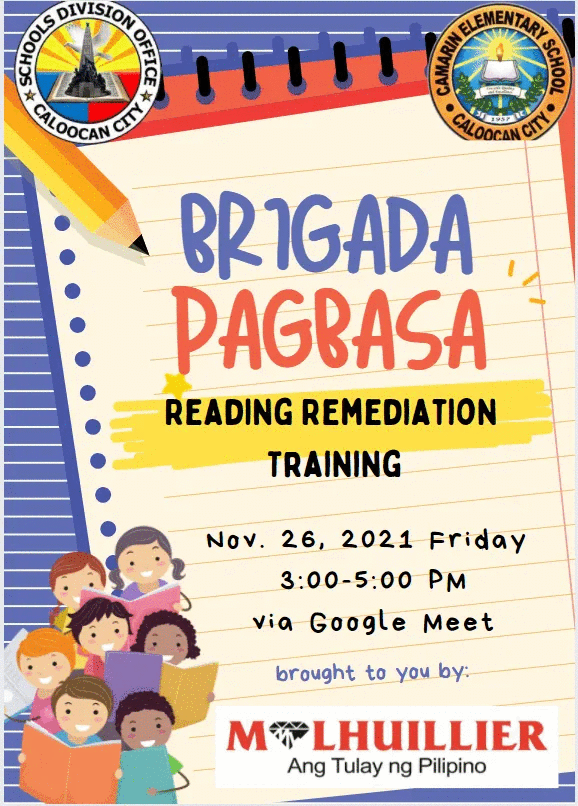 November 26, 2021, marked a significant event where MLhuillier, one of the largest and most reputable non-bank financial institutions that provide immediate monetary needs in the Philippines and Mission Ministries Philippines – a Christian NGO that sets up developmentally appropriate practices in Preschool designed for the indigent joined forces in response to the call of the Department of Education to address the reading Problem of Filipino Children through a program called "Brigada Pagbasa: Reading Remediation Training.
This project aligns with the Millennium Development Goal 2: Achieve Universal Primary Education, Education For All (EFA) Goal On Improving the Quality of Education And Every Child A Reader Program (ECARP), through Department of Education Division memorandum No. 93 series 2013, "Launching the Arrest the frustration Readers Program ( AFRP) in Grades 1,2,3. "Arrest the Frustration Readers Program in Grades 1, 2, and 3 as a reading program initiative.
Teacher Erlyn Isidro from MMP facilitated a 3 hours training session with more than 60 teachers from Camarin Elementary School in Caloocan City. She discussed the Reading Strategy formally endorsed by the Department of Education using the Marungko Approach. An approach used in MMP's book – Bipbip (Bilis sa Pagbasa ng Batang Isip-Pinoy), tested on its technology on teaching Reading for a minimum of 1 month. The authors and consultants are from the University of the Philippines.